Save space by taking Spud Spikes camping and RVing. Sprinkle our Everyday Seasonings on potaotes, brats and sausages before BBQing.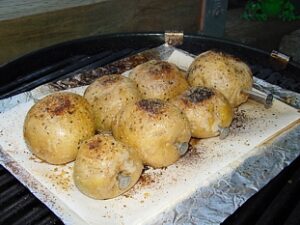 Growing up with grandparents who camped year-round both in a tent and an RV made for a memorable and enjoyable childhood. I know from experience how important it is to pack the right ingredients and utensils so you can cook meals efficiently and in a timely manner because you want to spend more time enjoying the outdoors than cooking.
I sure enjoyed my grandmother's outdoor cooking! I especially remember her apologizing for the potatoes taking so long to cook. She used to precook them at home and finish them up on the BBQ once we arrived at our favorite camping spot deep in the wilderness. I wish I knew then what I know now about baking potatoes, and I really wish I'd had my Spud Spikes then. I could have shortened the cooking time on those darned potatoes.
Whether you're a tent or RV camper, you'll find using Spud Spikes and our Spud Spikes Gourmet Original Blend Potato Skin Rub and Everyday Seasonings will help you cook potatoes in less time and achieve a crispy and zesty-flavored potato skin, making the entire potato enjoyable to eat.
Our Spud Spikes Gourmet Original Blend Potato Skin Rub and Everyday Seasonings sprinkled on brats and sausages before BBQing brings out the flavor. And you should taste what it does to steaks! You'll be drooling just from the aroma of the seasoning, and your taste buds will go into overdrive after that first bite.
Spud Spikes get the job done! It's also nice that they store four to the storage tube—you'll never lose them and they don't take up much space—so order your own set of Spud Spikes® and our Spud Spikes® Gourmet Potato Skin Rub and Everyday Seasonings (Pepper, Original Blend, and Garlic) today!
Share This Story, Choose Your Platform!