Welcome to the Press Room. Find press releases, images for publications, and recent news articles.
In The News
Whenever Spud Spikes products are in the news, reviewed, or have been tested by a third party, we'll post the piece (if permitted) and/or a link to the piece. If you spot our products in the news and do not see it listed below, please bring it to our attention—it will be most appreciated. It could be worth a free set of Spud Spikes!
PR Newswire Lifestyle News (September 24, 2014)—Spud Spikes®, offers a Baked Potato System that is great for tailgating and tailgating parties.
Lorie Huston, Spokesman-Review food editor, writes article (07/03/13) titled "TATER TACKS" about Spud Spikes®.
Watch the interview with Leon Frechette, co-creator of Spud Spikes®, with Derek Deis, KXLY4 News Anchor of "Good Morning Northwest" and "Made in the Northwest."  
Press Releases
View Press Releases for Spud Spikes® products. Click on the link(s) to download the press release(s).
Press Images
Welcome to the Press Room of images for Spud Spikes® products. Click on the link(s) under the corresponding image(s) to download an authorized 32-bit CMYK 300×300 dpi high-resolution with a zero background .jpg Press Photo.
For Internet Explorer users—because Internet Explorer doesn't support CMYK image rendering—right click on the link under the corresponding images and click Save Target As… in the popup window in order to save CMYK image(s) to your favorite folder or desktop.
Retail Spud Spikes Four Stainless Steel Potato Nail Kit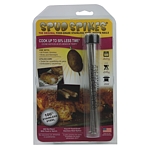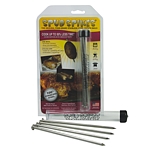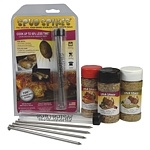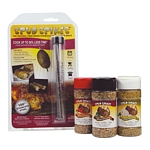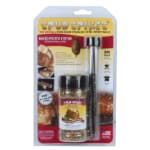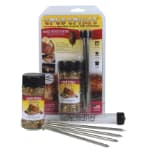 Spud Spikes Potato Seasonings—Pepper, Original, and Garlic