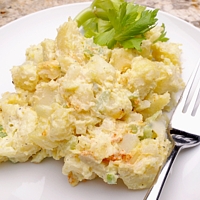 4 servings
Ingredients
Sweet & Sour Dressing:
2 Eggs
1/2 cup Sugar
Scant 1/3 cup Vinegar (scant)
1 teaspoon (generous) of Prepared Mustard
Salt and Pepper to taste
3 tablepoons of Butter, added last
Stir all ingredients together, except butter, and cook in a double boiler until thick. Stir in butter and cool before pouring over potato salad ingredients.
Salad Ingredients:
3 large Potatoes (Bakers): baked, peeled (if you wish), and cubed
1 Small Onion, chopped (or more, to taste) (Walla Walla Sweet Onions work great!)
2 Hard Boiled Eggs (3 if you like), peeled and chopped
1 Large Dill Pickle (or 2-3 small) drained and chopped (or more to taste)
Salt and Pepper to taste
Directions
You may need to adjust the amounts of the following ingredients to get a mix that is right for you and your family. Because one batch of dressing may be too much for these ingredient amounts, add part of the dressing, stir, and add dressing until the ingredients are coated to your taste.
Nutritional info
Per serving based on 1/4 of Dressing and 1/4 of Salad ingredients: 361 calories, 12 grams fat, 53 grams carbohydrate, 2 grams fiber, 10 grams protein. Vitamin A 12%, Vitamin C 28%, Calcium 6%, Iron 9%.
Comments
This salad dressing is good on other kinds of salads too!
Share This Story, Choose Your Platform!