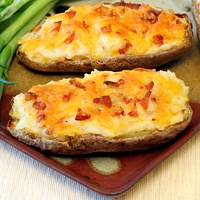 4 servings
Ingredients
4 medium Potatoes
1/4 cup Skim Milk
2 Eggs, beaten
4 tablespoons Parmesan Cheese
2 tablespoons Dijon Mustard
2 Scallions, chopped
Salt and Pepper to taste
Directions
Cut baked potatoes in half lengthwise and use a spoon to carefully scoop out the baked potato flesh and place in a bowl. Set the potato skin shells aside on a cookie sheet.
Mash the potato flesh (or run it through a ricer) and add the milk, eggs, cheese, mustard, scallions and salt and pepper to taste.
Pile potato mixture into the skin shells on the cookie sheet and top with a little shredded cheese. Return them to a 425°F oven for 15 minutes or until the cheese is melted. For an elegant look, pipe the potato mixture into the shells.
Variations:
Add bacon bits.
Add ham bits.
Use sour cream instead of (or with) parmesan cheese.
Add peeled roasted garlic cloves as you mash.
Add small bits of red/orange/yellow bell pepper.
Use a little cream instead of milk.
Garnish with small slices of green onions or paprika.
Top with a little salsa.
Nutritional info
Per serving based on 4 servings per recipe: 234 calories, 4 grams fat, 39 grams carbohydrate, 5 grams fiber, 10 grams protein. Vitamin A 4%, Vitamin C 71%, Calcium 12%, Iron 13%.
Share This Story, Choose Your Platform!